What are the best jobs for pregnant women? We'll provide some ideas- and how to find them.
If you are currently pregnant and looking for a job, you may be looking for just the right job.
But the question we are often asked by clients is: What does that even look like?
After all, bills won't stop coming when baby comes, right?
The reality is that most jobs can be done even while pregnant. (With the OK from your Doctor, that is.)
If you currently have a job, it's usually best to work with your employer and work through any accommodations you might need while pregnant.
The Pregnancy Discrimination Act prohibits discrimination by your employer on the basis of pregnancy, childbirth or related medical conditions.
But if you're searching for a job, we do recognize that some jobs are a little easier to do than others, when you're carrying another human around all day!
There is a lot to consider when job hunting while pregnant. There's your education, previous work history, and of course- finding something that's available in your area.
Here are some ideas to help you in your search!
>>At the end of this post, we've also provided a list of WHERE to find jobs.
1. Receptionist
If you have some basic office skills such as word processing and handling multi-line phone calls, working as a receptionist might be a great fit for you.
Not familiar with office software? You can find free tutorials on Udemy to learn more about programs like Microsoft Office.
Most receptionist jobs allow you to sit for a good part of the day, and are not physically demanding overall.
Specific jobs that might need a receptionist: Insurance offices, Attorney's offices, Financial Advisors, Car Lots / Service Centers, Boutiques, Medical Offices, Schools, Community Agencies and Nonprofits, and other small businesses.
2. Daycare Worker
Working in Daycare can be a logical choice when you're pregnant. This could help you secure a spot for your baby – and be near them all day after they're born.
In fact, it's one of the most popular jobs for pregnant women.
Think of: private daycares, church daycares, and Headstart organizations.
It's a win-win when you can earn money while taking care of your own baby (plus a few more).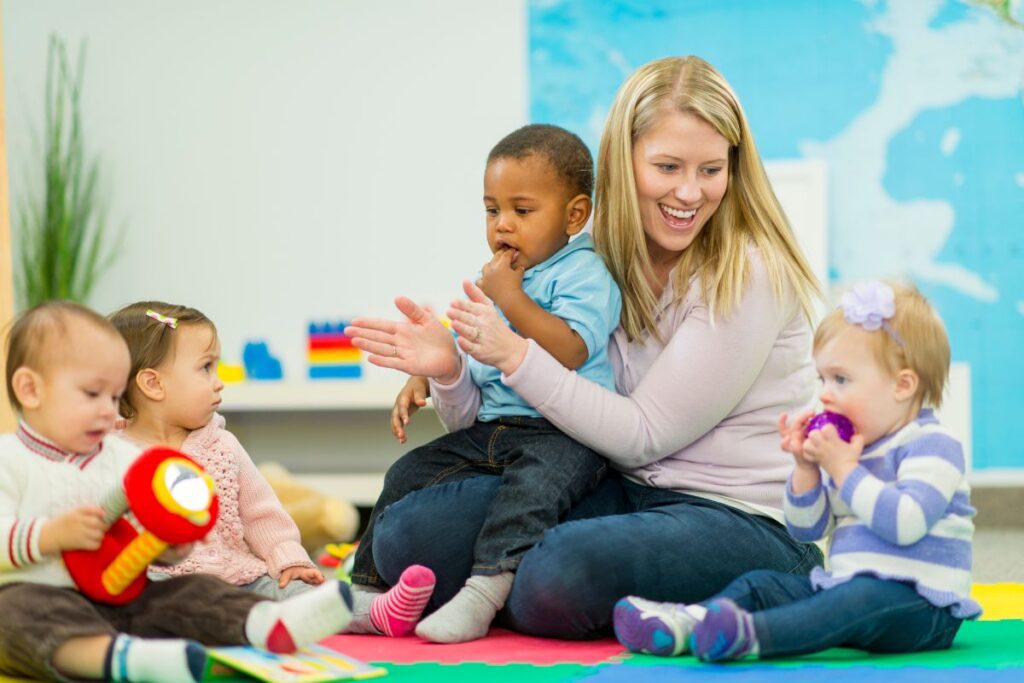 Caring for lots of kids can require more physical work than other types of jobs (bending, getting up and down from the floor, lots of walking etc.).
However, moms have been caring for multiple kids while pregnant since the beginning of time, so it can be done! Another bonus is that if you're having your first baby, you can learn some valuable skills while caring for other babies and toddlers.
3. Sales and Customer Service
If the first thought that popped into your mind was Telemarketing – just know that there are many other types of sales jobs out there!
Most sales positions allow you to sit or take frequent breaks to sit during the day. Think of: Car lots, cell phone providers, Insurance sales, Retail stores.
Some Remote Sales and Customer Service jobs can be found, as well. That would mean working at home, via a computer and phone.
You can view work-at-home jobs with Amazon here.
The Work at Home Woman and Rat Race Rebellion websites also list remote jobs that are hiring, and ideas for finding work at home employment.
4. Babysitting
If you have space (and the patience!) to watch other kids in your home, this is another at-home job idea for pregnant women.
For renters, you'll need to make sure that your landlord gives you permission to watch other kids in your home. One of our best tips for running any type of home business is to find someone else who is in the same business, and learn from them.
While watching other kids, you will also need to be careful of who you allow in your home (which you will want to do anyhow, as a mom!). And, be sure to get CPR and First Aid certification.
5. Delivery Driver
Depending on what is available in your area, delivering food or groceries can be a quick way to earn money without experience.
You can learn about Walmart's Spark Delivery program here.
Another similar option is DoorDash.
Keep in mind that delivery work may be less steady at times. And, you may occasionally need to lift heavy items if you are delivering groceries.
More Places to find jobs for Pregnant Women
Related:
Pregnant and Unemployed? How to find Assistance in Missouri